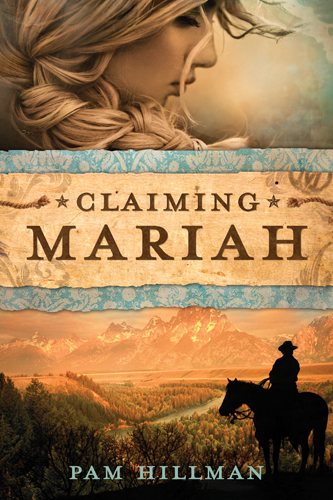 As soon as we returned from our short trip last week, which included a detour to an old
Wild West ghost town
,
Pam Hillman's
second novel,
Claiming Mariah
was waiting in my mailbox. Taking place in late 19th century Wyoming, I immediately scooped it up, still in the moment of our Wild West excursion.
The novel focuses on two main characters-Mariah Malone, and Slade Donovan. Mariah and her grandmother have been the owners of the Lazy M Ranch in Wyoming since her father's death, but things take a drastic turn when Slade Donovan, a rugged, strong, yet bitter man, and his gentle, quiet, disfigured brother Buck, arrive at the Ranch seeking full ownership. Years before, Mariah's father (Seth) and Slade's father (Jack) were former business partners, until Seth supposedly cheated Jack out of a gold claim. Seth went on to found the Lazy M, while Jack drank away his sorrows, becoming violent towards his children, and eventually dying from his alcoholic ways when Slade was just a boy.
Bitter, angry, and set on kicking Mariah and her grandmother out of the Ranch, Slade demands ownership of the Ranch, which Mariah quickly hands over. The book then follows Mariah and Slade on their personal journeys of forgiveness, acceptance, and not always relying on assumptions to shape one's reality. The romance part of the book was also in good taste.
I enjoyed the descriptive language of the story--I felt as though I were there--and I liked the style of writing. The author wrote from both character's perspectives, instead of being a neutral narrator, which gave some added interest to the story.
I had a couple minor complaints about the book, mostly about character development and how realistic the emotions of the characters were. For one, I didn't notice a lot of character development. Slade went from bitter, to not as bitter, to bitter, to not as bitter, to bitter, to "working on it". Mariah went from sad, to ashamed, to fine, to ashamed, to sad, to fine. I would have liked to have seen more distinct development instead of such a roller coaster ride.
Secondly, Mariah signs the Ranch over to Slade almost immediately after his arrival. There was talk of some elusive letter Mariah had previously sent to Slade's family apologizing for her father's swindling Jack Donovan, but we don't get to hear much about that. I'm not a confrontational person at all, but I would probably fight to keep the only home I'd ever known. I likely wouldn't go straight to the bank and sign over the deed. Mariah seems okay with this--sad, but not overly distraught or angry, which I find a little far-fetched. Finally, I wish some of the other storylines would have tied up a bit. What happens on the Ranch after the book ends? What happens to Mariah's sister? What happens to Slade's family? Especially Buck? A short epilogue would have tied up some loose ends.
While I found a couple things to gripe about, I did enjoy the book, and look forward to passing on my copy to my "Book Chain"...aka my mom to my gramma to my aunt, who all love reading as much as I do.
*My deepest thanks for being provided a complimentary copy of
Claiming Mariah
to Tyndale Publishers in exchange for my completely honest review.
Browse my other Book Reviews