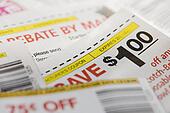 Couponing can save you a lot of money...but, here are a few basic tips to ensure you get the most out of your couponing experience.
Find Coupons
Besides finding coupons in the Sunday Paper, I find coupons on
Coupons.com
,
Target.com
,
Smartsource
, and various product company websites. I also look at Krazy Coupon Lady's
website
for deal matchups and limited time coupons.
Don't Buy For The Sake Of Buying
So, a brand of body wash is on sale and you have a coupon making it cheap. But, you know that your sensitive skin breaks out in hives every time you use this particular brand. Do you buy it? After all, it's cheap! Hey, cat food is 80% off, better stock up...except
you don't own a cat!
My rule of thumb--if I'd buy it without a coupon, I'll buy it with a coupon. I have had to throw away a lot of food I
thought
we'd use, that I got on sale with a coupon, but never did. You can always afford to
not
buy something.
Know the Rules
You can use one manufacturer's coupon per product. This is standard. But, every store has it's own coupon policy in addition. Some stores will double coupons, some won't. Most stores allow you to use a manufacturer's AND store coupon on the same product. This is called stacking. This is why I love Target. With their already low prices (they will also price match any item being advertised at another store), I can use a manufacturer's and Target coupon on the same item and save even more.
Couponing CAN save you a lot of money. But, don't go out thinking you're going to get $1000 worth of groceries for free. (Even when you have a coupon to make a product free, you will still have to pay sales tax if applicable.) Know the rules and buy things you'll use. Sometimes, not buying something is the better part of coupon valor.