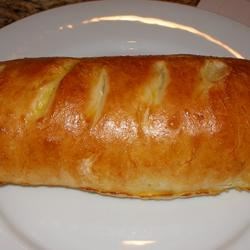 This is one of the easiest recipes you'll ever find for french bread. I don't own a bread machine, and I've never really needed one. This recipe is so simple, I once held a screaming and colicky three-month-old in one arm, and made this bread from start to finish with my single free hand.
I purchase my yeast either in large containers at Costco (yeast can be frozen) or in jars at Target or Walmart. Individual yeast envelopes can be expensive, and if you plan to make anything with yeast very often, you will save a lot of money by purchasing it in bulk. Depending on your area and the prices paid for your ingredients, one batch (two loaves) costs around
$0.60.
That's $0.30 a loaf. A huge savings from grocery store breads, not to mention you avoid all those preservatives.
Super Simple (really!) French Bread
Adapted from Allrecipes.com
1 cup warm water (about 110 degrees)
1 1/2 teaspoons regular yeast (not rapid rise or bread machine yeast)
1 tablespoon white sugar

Dissolve sugar into warm water, and sprinkle yeast over top. Let sit about 5 minutes, or until yeast is foamy.
1 teaspoon salt
2 1/2 cups all-purpose flour, plus more for kneading

Mix in salt, and add flour 1/2 C at a time, incorporating well, until a dough has formed.
Add dough to a floured pastry mat, and knead about 5-10 minutes, until dough is soft and no longer sticky.
Place dough in a large bowl, cover with a kitchen towel, and place in a warm location to rise until doubled in size. About two hours.
Punch down dough and remove from bowl. Cut into two equal pieces. Form each piece into a loaf shape and lay on a parchment paper covered baking sheet.
Score each loaf with a knife, and cover with a towel to rise for 30 minutes.
1 egg yolk
1 tablespoon water

Mix egg yolk with water and brush over the tops of loaves for a golden brown crust.
Bake in a 375 degree oven for 20-25 minutes, until loaves are golden brown.
Hungry for More? Join the Save Money, Live Joyfully Facebook Community