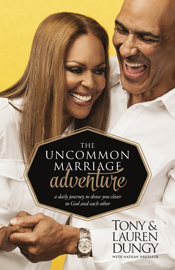 While I've mentioned I'm a
big baseball fan
(and once threw out the first pitch at a MLB baseball game), I haven't mentioned that I'm also a football fan. Tony Dungy, former head coach of the Indianapolis Colts and Tampa Bay Buccaneers, has always been someone I've admired...both on the field and off, so I was excited to read Tony and his wife Lauren's new book,
The Uncommon Marriage Adventure
.
Tony and Lauren have been married for more than 30 years and have nine children together, (three biological children, and six younger children whom they've adopted), so they have a lot of marriage and family experience. They've also experienced the loss of a child, which is grief that few can grasp, but that grief has made them stronger in their faith.
The Uncommon Marriage Adventure
is a Christian marriage book written for husbands and wives to read together, sparking genuine deep conversations and prayerful time together...it's written almost as a daily marriage devotional. There are 8 main principles (with different "core practices" for each day) that couples work on in the book that spans 16 weeks. Tony and Lauren divided writing the entries. Some are geared towards husbands, while others are geared towards wives, though most apply to either spouse.
Each entry starts with a title that gives a hint into the content for the day, followed by the "core practice", or concept to practice for that day. Then there is a verse, followed by a personal story, and then a practical application. At the end of every week, there's a quick summary with all the concepts you learned, followed by a prompt for praying together.
I really enjoyed this book, and it appeals to both husbands and wives. (Many marriage books I see are geared toward only one spouse). I appreciate how the Dungys expose their strengths and weaknesses, and give practical advice to other couples. They were real, and didn't claim to have it all together, even after 30+ years of marriage. I not only enjoyed the content and applications, but I also liked the layout. It was easy to read and the weekly summary kept things simple. Overall, I would recommend this book to others.
Thank you to Tyndale Publishers for providing me with a free copy of this book in exchange for my honest review. All opinions are my own and have not been influenced in any way.