So, you have some leftover BBQ Chicken from Memorial Day. What do you do with it? Here are two of our favorite recipes using BBQ Chicken. This is one of our favorite pizza recipes, and my husband requests this salad often!
Day 1
BBQ Chicken Pizza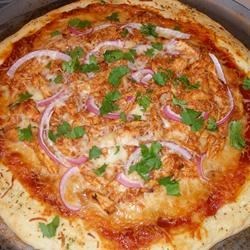 1/4 cup barbeque sauce
1/2 cup marinara sauce
1 lb pizza dough, homemade or store-bought
1 cup shredded mozzarella cheese
1/3 cup thinly sliced red onion
2 tablespoons chopped fresh cilantro
Preheat oven to 425 degrees F (220 degrees C). Stretch dough onto pizza pan.

Bake pizza dough until set, but not cooked, about 4-6 minutes.

In a small bowl, mix the barbeque sauce and marinara sauce. Spread evenly over the pizza crust. Arrange cooked chicken chunks on sauce. Sprinkle with mozzarella cheese and red onion slices over the top.

Bake about 15 minutes in the preheated oven, or until cheese is melted and bubbly. Remove from heat, sprinkle with cilantro, and let sit 5 minutes before slicing.
(Recipe Credit)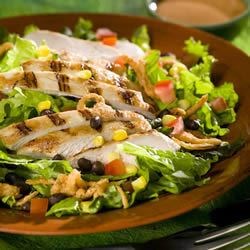 Day 2
BBQ Ranch Chicken Salad
6 C Romaine Lettuce
1.5 C cooked BBQ Chicken
1 fresh tomato, chopped
3 TBS cilantro, chopped
1.5 C corn, leftover off the cob or frozen
1.5 C black beans, homemade or canned
1/2 C BBQ Sauce
1/2 C Ranch Dressing
1/2 C Cheddar or Mexican Cheese
Combine Lettuce, tomato, chicken, cilantro, corn, and black beans in a large bowl.
In a small bowl, combine BBQ Sauce and Ranch Dressing.
Toss salad with dressing and top with cheese.
Makes 2 Main Dish Salads or 4 Side Salads
(Photo Credit)