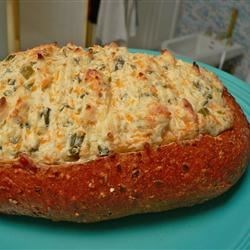 Photo Credit
I received this recipe when I got married 7 years ago, and have brought it to every get-together since. In fact, there is outrage and uproar if I don't make it, and I'm constantly giving out the recipe. This is a perfect football food as well. Serve with crackers, bread, or even vegetables! Serving this appetizer in a bread bowl is ideal, but it will also fit in an 8x8 baking dish. Some people I know have even used some sour cream in place of some of the mayo, or mixed up the cheddar to parmesan ratio.
Jalapeno Cheese Dip
2-4 oz diced jalapenos. half a 4 oz can for more mild, an entire 4 oz can if you like the heat!
1 C shredded parmesan cheese
1/2 C shredded cheddar
1 C mayonnaise
4 oz can diced green chilies
1 large round bread bowl (optional)
Mix all ingredients (except bread bowl), and scoop into bread bowl or baking dish. Bake at 350 for 30 minutes, or until top is brown and bubbly. Watch grown men fight over the last scoop and lick the bottom of the baking dish.